Make an Online Payment!
Sumerian Irrigation - Services

Irrigation
A well-designed sprinkler system deserves nothing less than the best quality irrigation parts. We only use parts from the best manufacturers in the business for our irrigation istallation projects. However, over the years we have found that each manufacturer has a product that it makes best. Since all the parts work well together no matter who makes them, we often choose the best parts from each manufacturer in order to install the best possible quality sprinkler system. Your site conditions will also play a role in which manufacturer's component we use. The end result is an efficient, well-constructed sprinkling system that will function with precision for many years to come.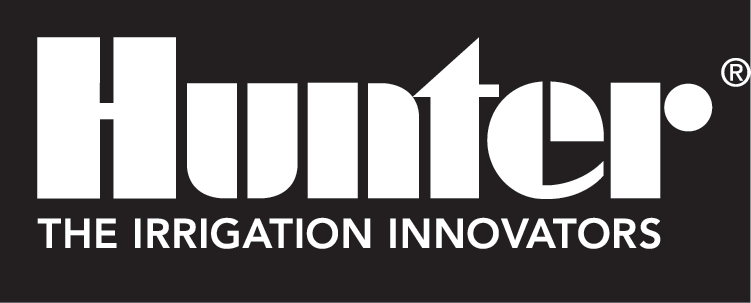 Back Flow Testing
A new sprinkler system consists of sprinkler heads, valves, a backflow preventor, a timer, wiring and pipe. The pipe is put into the ground with a pipe-pulling machine. Instead of digging unsightly trenches, this machine leaves only a narrow trail in the lawn which usually grows back completely in 1 to 3 weeks, depending on the weather. (Some trails may take longer to disappear when the weather is hot as the grass does not grow as quickly). During a typical irrigation installation we install the timer in the garage for convenience, and we install all heads and valves as designed. When complete, the system is thoroughly tested and adjusted for accuracy.
What will my lawn look like after an underground sprinkler is put in? Here's a series of photos that shows some of the steps of a typical underground irrigation installation!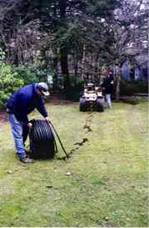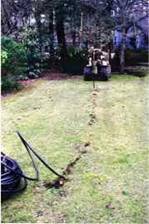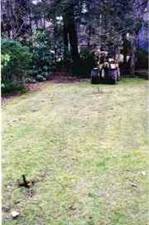 Design
The most important part of installing sprinkler systems is the design. Even with the best quality parts and expert installation, a poorly designed sprinkler system will not water efficiently or protect your landscape.

When Sumerian designs a sprinkler systems, we consider a number of important variables. Lawn areas have different watering requirements than flower and shrub beds. Shady areas need far less water than sunny ones. Trees take a tremendous amount of water and will draw from your lawn and bed areas if they need it. Many different types of sprinkler heads can be selected to satisfy a variety of watering needs.

The water pressure on your property will also affect the design of your sprinkler system. It will determine how many sprinkler heads can be put on each zone, and in turn, how many zones your property will need to properly water everything.

The finishing touch on your new sprinkler design is an easy-to-use timer that will make operating your sprinkler system a snap. A rain sensor will be installed to prevent the system from watering after it has rained. Well designed sprinkler systems allow you to enjoy years of convenient and efficient watering.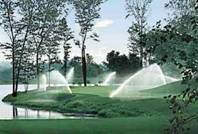 Our projects include:
Residential Sprinkler Systems
Estates
Condominiums
Commercial Properties
Golf Course


Landscape Lighting
Landscape Lighting offers an incredible expansion of the enjoyment of both residential and commercial properties. It makes outdoor spaces usable at night and adds a magical view into the landscape from interior spaces. Through skill and thorough planning, Sumerian can create a "lighting portrait" for your home or business. The overall lighting scheme is designed to enhance your landscape by highlighting its natural beauty, not by drawing attention to the bulbs and fixtures themselves.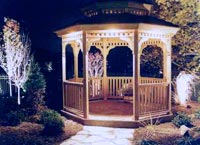 When designing a landscape lighting scheme, we use 12 volt fixtures on residential properties (as opposed to 120 volts) for several reasons. Small-scale, low-voltage fixtures are safer and cost less to operate. They can be easily hidden in planting beds and trees as well as integrated into structures. Conduit is not required for the cables, saving on the cost of materials. Fixtures can be stake-mounted providing movement of fixtures as the landscape changes. A wide variety of low voltage lamps are available for your choice.

Four issues direct the selection of the appropriate lighting for a specimen, or a point of interest: the desired effect, the purpose the lighting effect serves in the composition, the direction of light, and fixture location. These issues can be directed by the following techniques:
Frontlighting starts to show or create shape, ties areas of a composition together and provides detail and color to the view of a plant. It can also reduce or emphasize texture based on fixture distance from the plant.
Sidelighting emphasizes texture on plants and creates shadows on either vertical or horizontal adjacent surfaces.
Uplighting creates dramatic effects on plants - a glowing effect, shadows on a vertical surface and creating a halo are a few of them.
Downlighting can provide a natural appearance if it follows the direction of the sun. It can provide strong accent lighting or soft fill light, accentuate detail and color, and offer a moonlight effect.
Pathlighting is used primarily to create a symmetrical pattern of light for navigation. Fully shielded fixtures may be positioned along landscape cutouts and pathways to add safety, security, and visibility at night.
Lighting has the ability to transform a space, create an emotional response or simply make your environment more comfortable. It offers security and additional time to enjoy your surroundings while bringing an entirely new look to your landscape after the sun goes down. Let Sumerian create a lighting portrait for you.

Drainage
Don't let your valuable landscape investment wash away!
Trust Sumerian to make provisions for you property's drainage needs.

Although much science goes into calculating the runoff requirements of a particular site, the frequency, intensity and duration of rainfall can be difficult to predict precisely. This makes experience and common sense crucial to solving drainage systems problems.

Our projects include simple solutions to advanced drainage systems:
Subsurface drainage
lowers the high water table, which may be caused by precipitation, or ground water under artesian pressure. Subsurface drainage systems are accomplished by building a conduit below the water table, creating relief drainage and interception drainage.

Surface drainage
The collecting and disposing of excess water from buildings and property runoff.

Drainage Pond
This "water" feature which is actually a huge holding area for excess water. It is constructed with decorative stone to simulate a pond complete with water loving plants but the actual water never reaches the surface.

Dry Stream Bed
The water remains below the surface during normal weather, but after a heavy rainfall the overflow follows the natural progression of the water through the streambed.
Sumerian Irrigation is proud to serve all of the Lakes Region and surrounding areas. Please contact us with any of your needs or questions about simple or advanced drainage systems.

Openings
When opening your system we will set your controller, activate all zones, check and adjust all sprinkler heads and test any drip tubing (if applicable). If needed, we will perform any minor repairs at that time.


Service & Repairs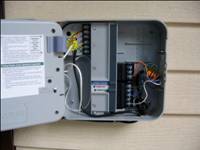 Even a well-maintained sprinkler system needs service and repair from time to time.

For service and repair appointments, please call our office at 207-647-8866. Our office staff will gladly set up an appointment for you. Our appointments are scheduled as either AM (between 8:00 a.m. and noon) or PM (between noon and 5:00 p.m.), Monday through Friday. These are general guidelines and in most cases we are able to keep appointments as scheduled. During our heavy service times in spring and fall, we may sometimes experience service problems that were not anticipated, resulting in a delay. Should this happen on your appointment day, we will call you to explain the situation and work out a convenient solution. Our goal is to make your service needs as hassle-free as your new sprinkler system.
Revamps
If you have an older sprinkler system, or if you need your sprinkler system changed due to an addition or landscape construction, you may require a revamp. A revamp is the rebuilding or new installation of a section or sections of your existing sprinkler system.